Well, here is the REAL story of what happened last week, as most of you have already heard we caught a couple of fish, but heres some pics to go along......
tater marshal and i decided back in the cold of striper season that we were gonna fish for another week this cobia season. we went ahead and booked a room and I invited jeff to come along and fish the week with us. luckily enough jeff managed to scrape the cash and time off of work to go with us.
i went down early with the ladyfriend on thursday night. i got to the point late around 7am and by that time the point proper was laid up with campers and people and I was afraid i'd have to look for another spot. by chance the General, Rob of the Hatteras Island Fish Militia saw me and told me to park him in and made room for me to fish, what a nice guy. Actually I was kinda rude and set up infront of someone elses camper, but Fish Hunter let me fish there anyway, nice guy... I ended up fishing next to VA APPRAISER and Fish Hunter and decided to yak a bait out. I yakked one out and about 815 or so I hook up into a fish. A couple of minutes later, Rob sticks the fish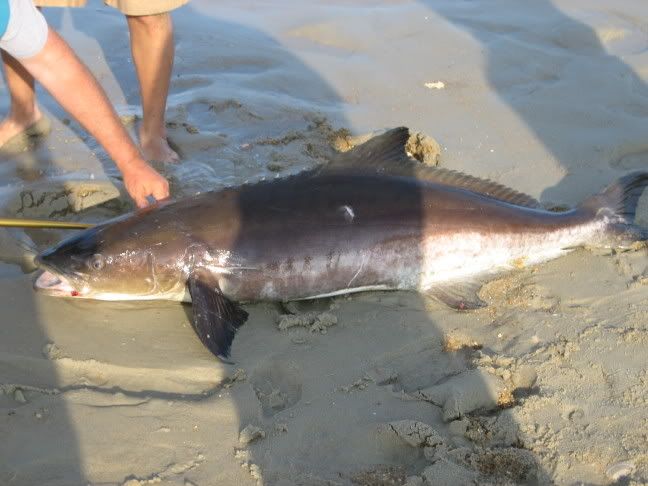 I went over to RDT to get a real weight and it ended up being a 76lber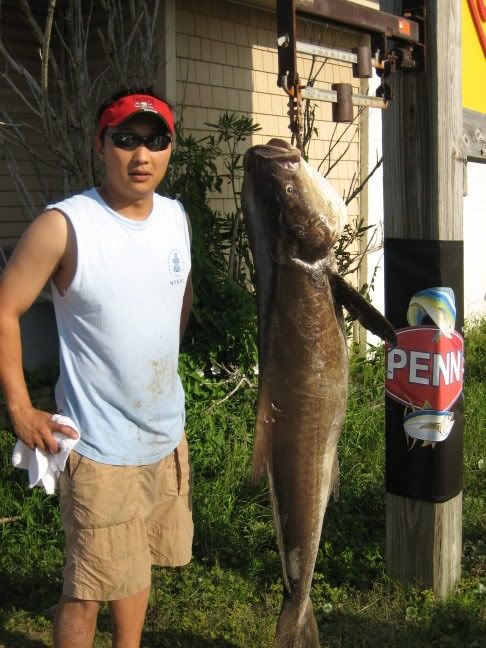 The general and I decided we'd put the first Asian Mafia Militiamen POW on the beach...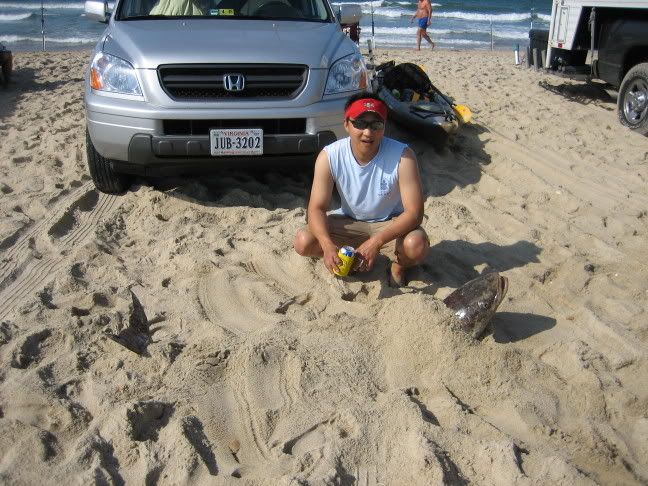 So after that I'm feeling pretty good and lazy so I hang out for a minute then around 1030ish I decide to yak another bait.... except by now the boats are everywhere, lines are everywhere and the current and wind are not as polite as they were. I went ahead and yak out from right next to the shoals with two lines and i went out about 200yrds and cut to my right (south). except after I cut i didnt go anywhere. For at least 20min I paddled my arse off and managed only to not be swept north. I was told it was hillarious as I was on an elliptical paddling machine........ I could hear the laughing from the beach
... Not long after that I started being swept in the shoals and northward where I dumped the yak....... lost my sightcasting combo(brand new diawa reel) and hopped back on the yak only to be flipped again... i eventually make it back and of course the General is giving me the chit i deserve. At this point, around noon, i call it quits for the day, afterall the rest of the crew isnt even down yet and I already got a nice fish. so by 1 oclock I was sleeping.
Friday night all the boys begin pouring in, Tater comes in and we all decide for some sharkin... nothing goin on so we all go back in before the cookout, except Ted from the RDT board needs a ride, and he has to squeeze in teh back with my dog... interesting fit....
Saturday rolls around and marshall comes into town along with the rest of the AC and shooter. We fish the morning and low and behold the horrible sight on the couch when we get back...
Well, youda thought he'da learned after al's eel incident last striper tourney, but obviously not. as a side note, if you are bunking with the AC, DO NOT PASS OUT in public at 3 in the afternoon...... AL decides shooter needs a bluefish head in kissing him.. SO... he takes a huge nasty bleeding bluefish head and makes it kiss shooter, somehow.... that picture got deleted from my camera but i tell you what the whole porch was rumbling in laughter! afterward the AC took a minute for a mugshot
Sunday we ended up fishing again.... Best weather day of the trip... the rest of the trip was wet and windy.. not a good combo... we ended up hookin up with some HUGE rays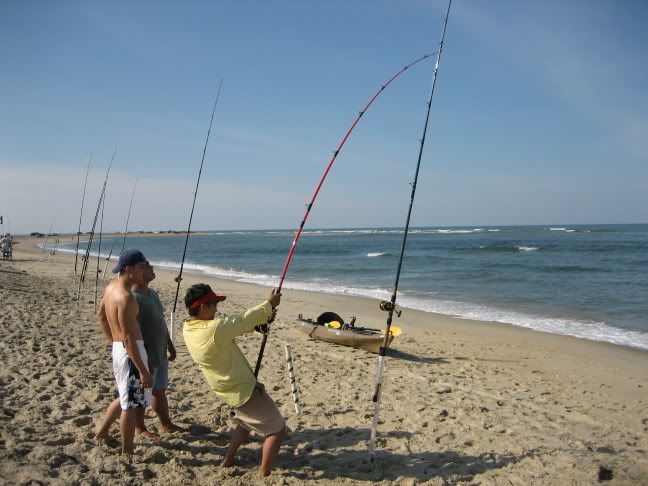 I also managed to hook up with an unstoppable on my tld which stripped power pro like i have never felt. tater actually grabbed my shoulders as I was being skirted away... Kenny got a good pic of the drag marks i left in the sand..... We later on decided to take a yak ride to go see if we coudlnt catch us a cobia. We ended up launching and staying out for a couple of hours and saw a bunch of cobia.. and couple LARGE fish right behind marshalls boat. i manged to hook one up for a couple of seconds... it honestly THAT was the highlight of the trip. the rush from that fish was amazing....
oh somewhere along all this teo catches a 45FL drum... i forget which day. the week was pretty slow, scattered fish here and there, Jeff lands a citation cobia 44lber i believe. NICE FISH JEFF!!!!! Again, scattered fish, and a bonita run that I wasn't fast enough to get into. Fished with Kenny and Rodwatcher and Kenny hooked up a pup cobe. The weekend rolled back around and the AC was reunited. That night we celebrated and made fun of al as we took this picture.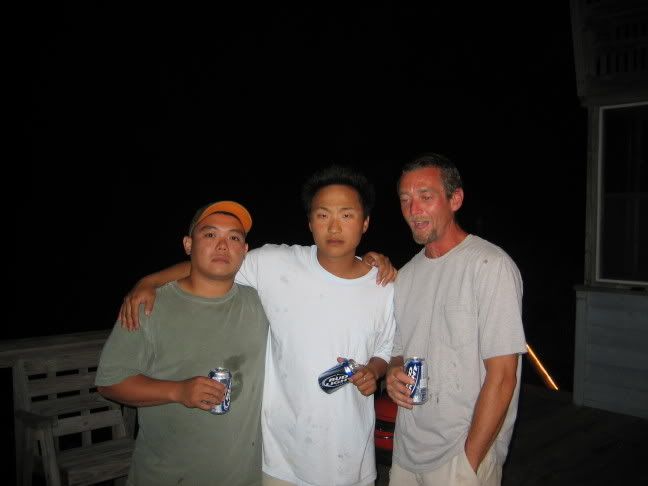 he got mad because we told him you had to have a pinkslip to be in that picture.... he went in the corner and had a couple of BLS and cried... and something else too...
Well, Saturday was pretty slow. I got christened by the General along with a few other vehicles,
and I saw Tommy Wheeler catch a nice fish on a cast bait... It truly was the highlight of the day. Nice fish on a true surfcast bait. Saturday morning, it was on. It was my last day there, said the lady friend so despite the not so great water conditions I decided to yak baits out. Nobody else seemed interested in doing so but hey, GO BIG or GO HOME. So I decided to go for it anyway. It wasnt a very pleasant yak ride. I stuck a bait inside and one outside. around 820(I asked AL what time it was) i noticed the 1569 bend and start screaming... FISH ON. When I go the fish in visual distance I notice the 1509 starting to dip... TEO is already on it and I'm screaming SET THE ******* HOOK *******. Teo's already on it and does the AC hookset and lands his fish as well.
Well you know after that everyone yaks out baits too! Teo's buddy Ian lands a nice fish as well. 61lber
Well... As I was taking that pic, I saw this and had to snap a pic for the rest of PS to see... classic
(REMOVED)
After that I stick my foot on an anchor sinker about 5 inches or so into my foot and leave the beach for my tetanus shot and anti-biotics... so i get back home.... black eye from kayak flips, tetanus shot and anti-biotics and limping after one of my favorite trips with the boys....