Discussion Starter
·
#1
·
<br>
The plan was to leave Sunday but the waves were too high for our 24' single outboard center console. Wednesday's forecast looked promising so we called off of work and headed to OC Tuesday night. We launched off of AI around 6AM Wednesday morning and by 7AM we were 30 miles out into the Atlantic Ocean. The plan was to do something we had never done before and never thought we could pull off with our small boat and lack of deep-sea experience; Fish for Tuna.
The ocean was calm and the sun was just out, it was a good day to be on the water. The ride was smooth and uneventful except for when one of my buddies pointed at the water and frantically yelled "ALLIGATOR ALLIGATOR!!" It turned out to be a Humpback Whale coming up for a breather LOL. As soon as we arrived, we rigged our rods and started chunking. There were several boats nearby but it was quiet, no action and nothing on the fish finder either. It was starting to look like another skunk, boredom plus sea-sickness had half of us asleep while the others manned the rods. Then out of nowhere, this huge, freaky-looking sea creature creeps up on us. We saw a large fin and at first we were certain it was a Shark but when it emerged from the water, it had an asymmetrical shape and no tail. We had never seen such a creature before so we quickly theorized that it must have been a fish that survived a vicious Shark attack to which it lost half of its body LOL. We later learned it was a Sunfish (actual pic, caught on go-pro).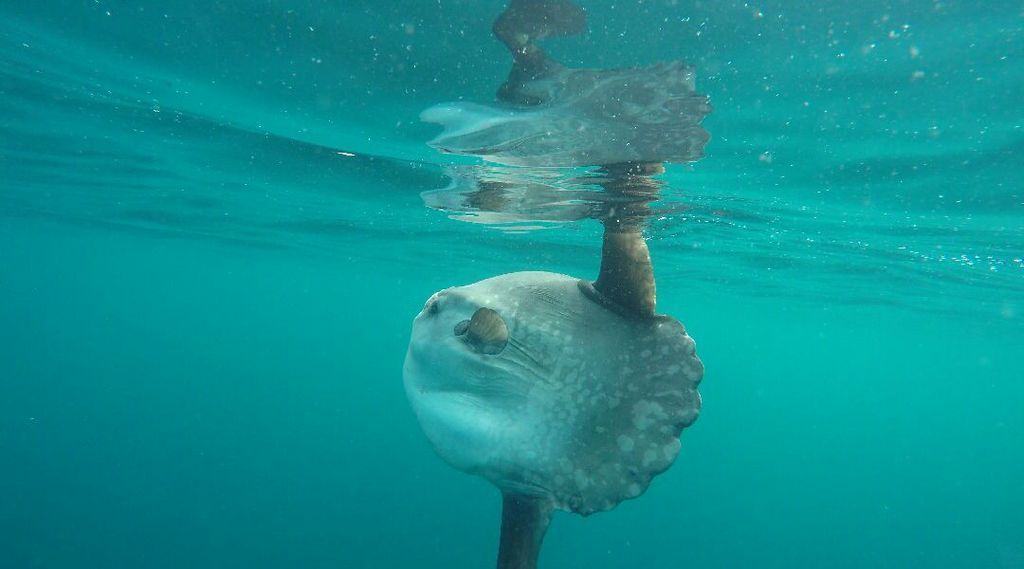 <br>
The creature stuck around for a few minutes then left. Not one minute passes by and one of our spinners starts clicking. I was hesitant to reel it in at first thinking it may be the Sunfish but this thing was moving fast. As soon as I started fighting it it took off like a rocket, taking lots of line. It then suddenly turned the other direction creating slack and setting itself free. It was a terrible feeling. I put fresh bait on my hook and threw it back in. Less than a minute later another hookup, this time it was really heavy. Line was running in all directions and overpowering the drag on my spinner. After a good fight and a worn-out shoulder we managed to land it. 32" 17lb Yellowfin.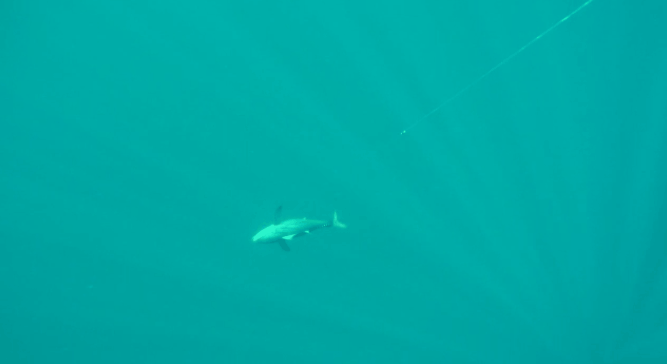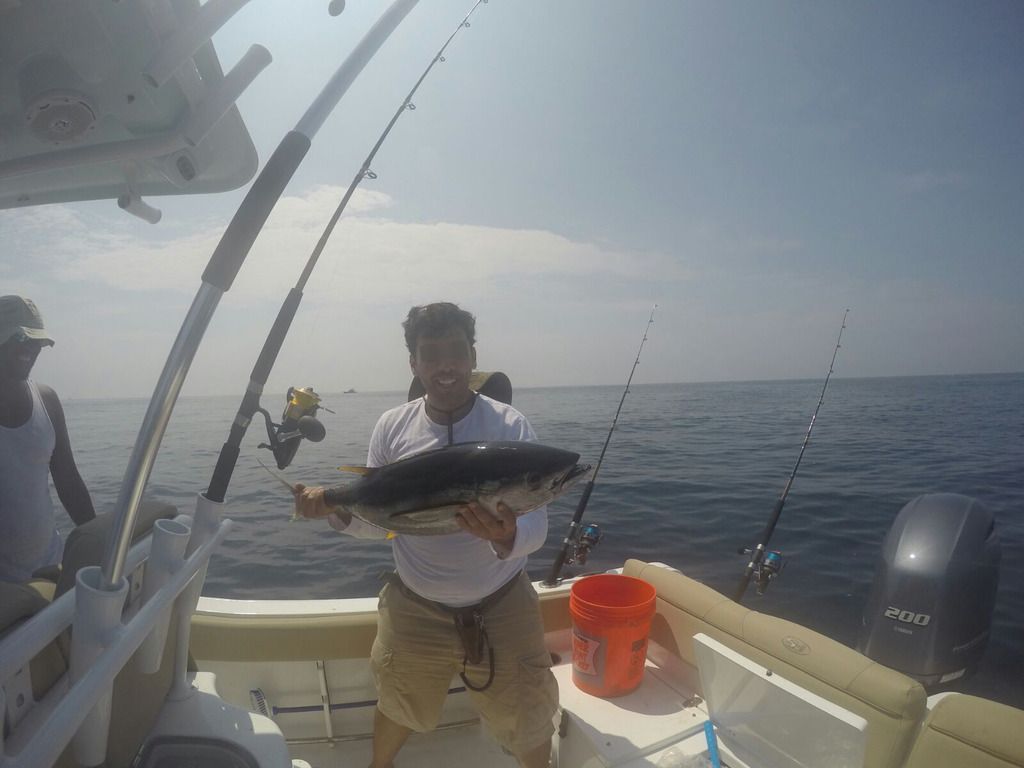 A few minutes later we managed to hook another one. It started doing circles around the boat and at some point rubbed the line against one of the stabilizer fins cutting it and setting itself free. Another lost fish…bummer! Within an hour after that we hooked and landed two Skipjacks. They weren't as big but a blast to catch. Action slowed as it got closer to noon. At some point we were seeing the Tuna zipping by and taking chunks of bait but no more hookups. By noon the fish had disappeared and action died down. By early afternoon we had packed up and started heading to shore. This was the most fun we ever had fishing, not to mention the reward of highly prized meat. We are drawing lessons and looking forward to the next trip which we hope will be even more rewarding.