Discussion Starter
·
#1
·
After receiving several PM's on how do I make my Shark rigs I decided to do a 101 on the subject. First off I would like to apologize to Mark55 for the delay in the making of this. I was laid up from some recent health issues. So here we go.
Firstly I'am in no way a expert on the subject of sharking. Do I have very good success? Yes I do. Partly because I've evolved my techniques and my rigs to the type of shark I'm fishing for. There are many types of rigs you can use and make that work great. Many people on this forum also could chime in with thier rigs and experience. Keep in mind while your reading this 101 these are the rigs and setup I use but by far not the only way. I myself have as many as 20 different rigs I use depending on which type of shark I'm going after. In this 101 I will show you some of these rigs but will be specifically showing you how to make my favorite rig that will pretty much work on any shark including monster tigers. Also keep in mind me and my son do all our shark fishing from the shore and we use kayaks to take our bait out. Now these rigs could be just placed in the surf if no kayak is available. We all know our tooth friends lurk even in knee deep waters.
These are me and my sons reels we use for sharking Mine is a Shimano tiagra 50 with 1000 yards of power pro 100lb test. His is a Shimano TLD 25 with 700 yards of power pro 80lb test. Once again any reel could be used just keep in mind have plently of line and a solid drag system.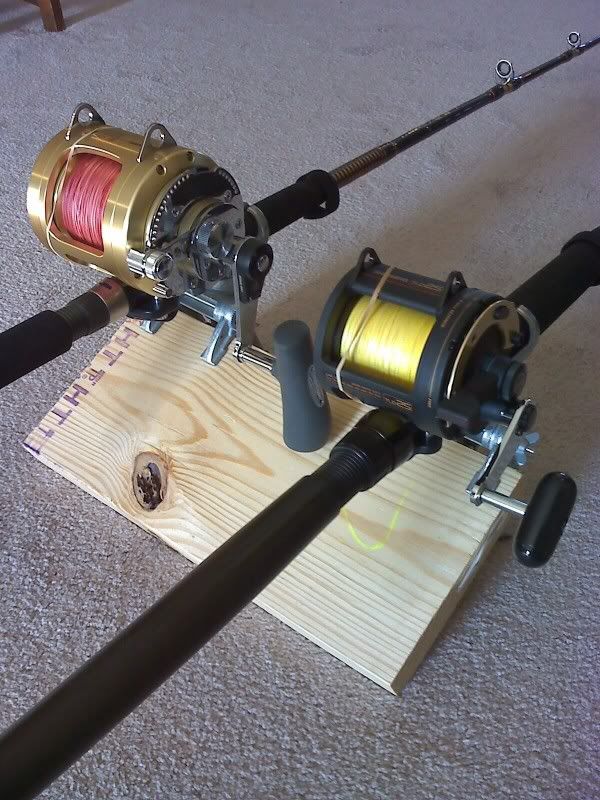 These are the basic things you will need to make this specific rig. 10ft 400lb mono, 2ft 174lb solid strand wire, 2-#16 rubber bands, rig wheel, 350lb test barell swivel, 300lb test aussie swivel, steel thimble, Large hook. I like Diachi 12/0 13/0 improved circle hooks, and a crimp set.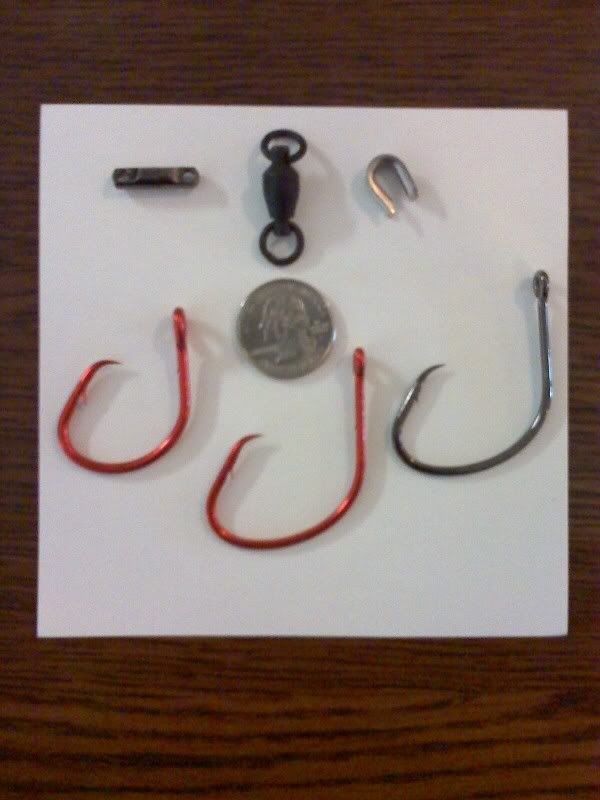 On the subjects of hooks, Many time these huge hooks are used especially J hooks I myself find they are not needed especially if you plan on practicing catch and release. J hooks can cause extreme damage to the shark So I use circle hooks only that are actually not even that big. My shark hooks are also the same I use for red drum.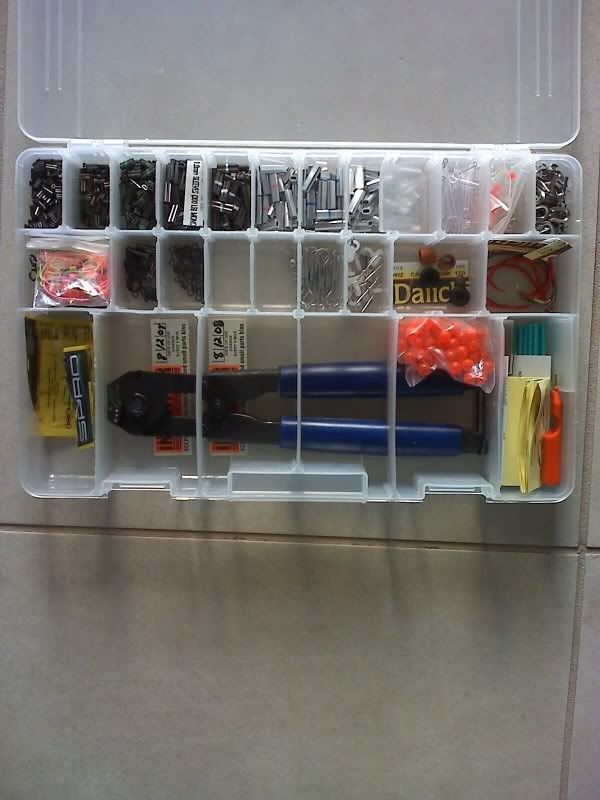 On to the rig making first take a 2ft piece of 174lb solid wire and haywire twist the aussie swivel on.
to the other end of this wire haywire twist your hook on.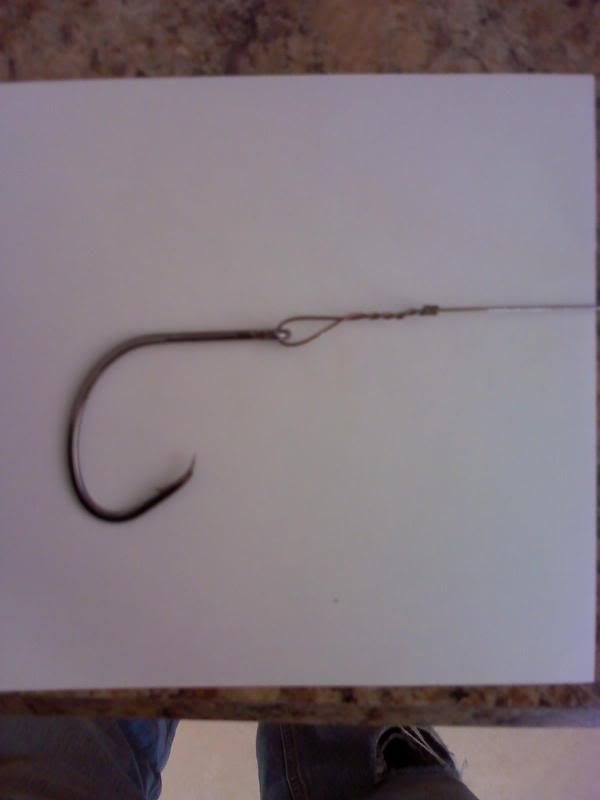 this part complete will look this this.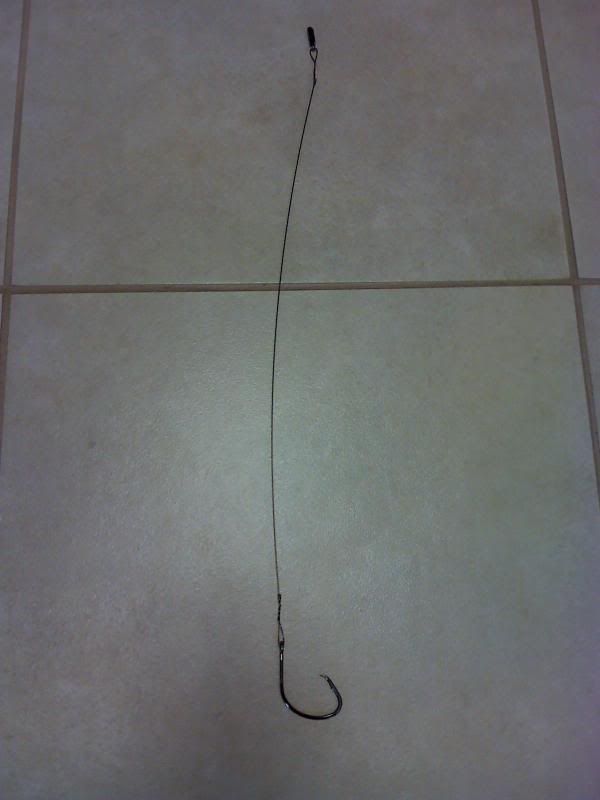 Next take your 10ft mono and place your 2.2mm double barrel crimp sleeve on and crimp this to your aussie swivel.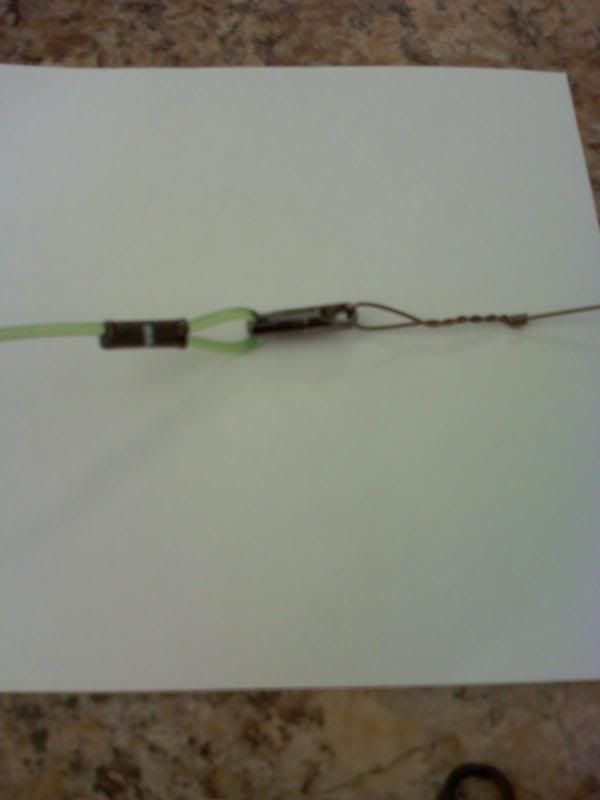 Now you want to get your barrel swivel out and with needle nose plyers compress your thimble in place.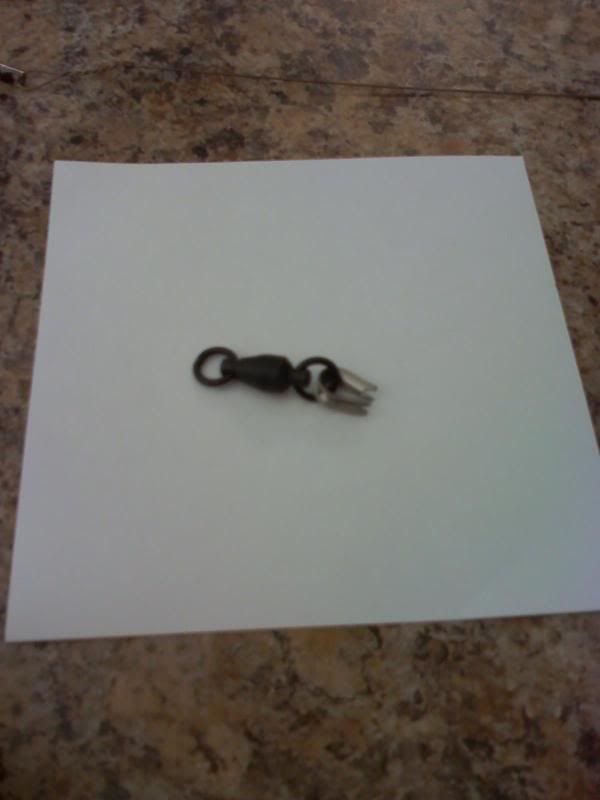 The other end of your 10ft mono place your 2.2mm crimp sleeve thread through thimble pull tight and crimp.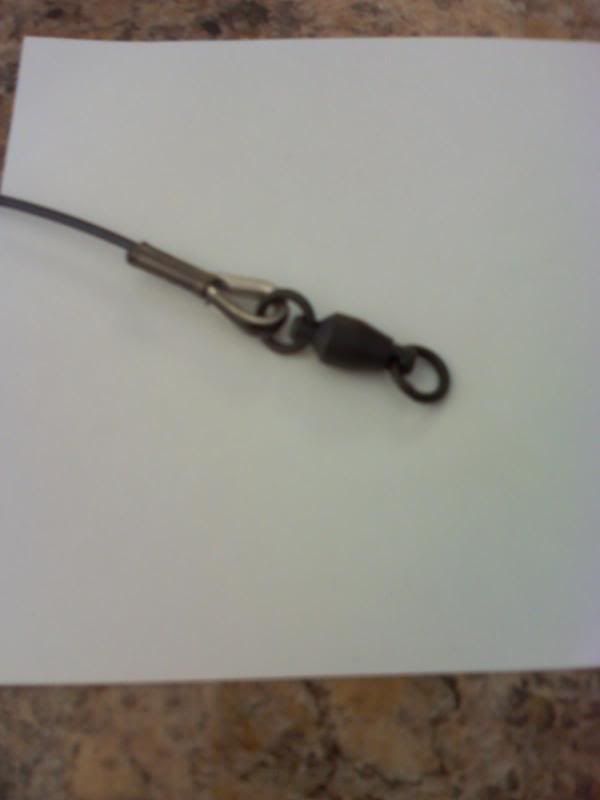 And thats the completed rig.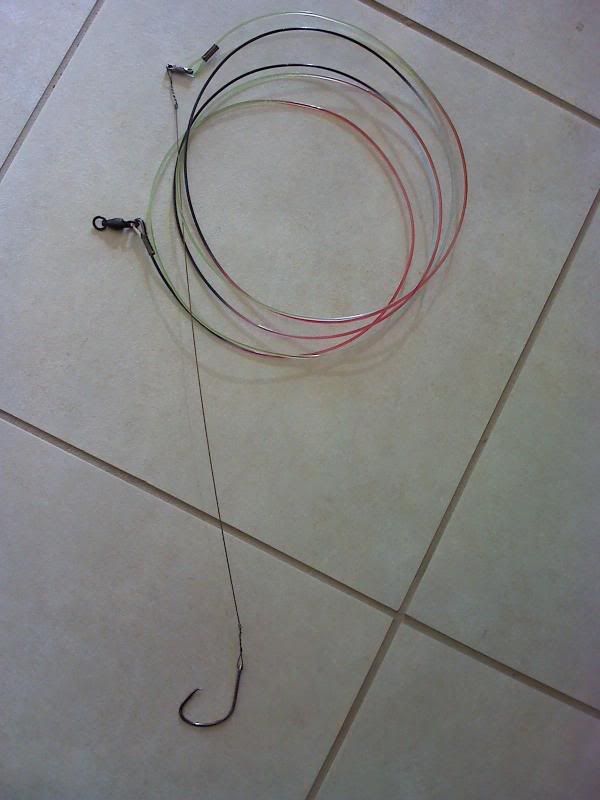 Why the rubber bands you ask. Well I use one attached to the hook for brideling my bait to the hook and the other I place on the barrel swivel to hold the completed rig on the rig wheel till use.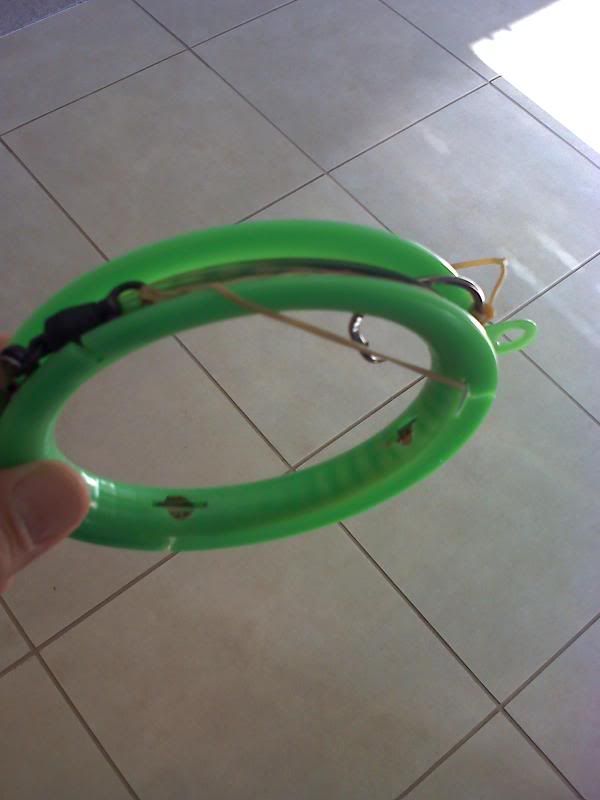 Now a little about this rig. Obviously the solid strand wire is for the sharks toothy parts. Using circle hooks that mostly catch in the corner of the mouth the 2ft piece is plently long enough to prevent bite off. The 10ft section of mono is to prevent the sharks body or tail from cutting the line. With sharks they tend to roll into the line or jump and roll depending on the species either way their bodys and tails are sharp sorta say. Of course the swivel are for line twist during this battle. Now why do I like this rig so much. In my expeirence several interesting things occur with shark fishing. One they can be very shy to alot of steel cable and wire. They actually can sense it and this will prevent a strike. By eliminating all cable and wire except the 2ft for bite off protection my strike and hook ups have increased drastically. Also with this rig after catching a shark just cut the solid wire, release the shark and attach a new 2ft wire with hook to the existing mono rig and walla new shark rig. The 10 ft mono depending on what sharks you catch should last you a many shark battles. I will also post some photos of other shark rigs and things I use shark fishing. But first I want to get this up.