Discussion Starter
·
#1
·
We had been planning a trip to go to PINS with family which was myself, wife, daughter, cousin and her husband. Was worried about going because most of the reports was putting the water to the dune line. Ironman was down in Port A and had been giving me reports when he could. Thanks Ironman! Left Saturday morning from SA and first place to stop was breakaway store. Talked to Nick and he said we would be fine. After several more stops we finally hit the beach. I stopped and took a quick pic of the beach:
We headed to around the 17MM and decided to camp there for the night:
After putting everything up it was time to start fishing. My first cast out I get a 16" black drum. I think uh-oh, this is not good, first cast out and I catch a black drum! Well after catching plenty of whiting and some hard heads I finally get a pompano, it was only a 8" pomp but let it go hoping for the bigger ones out there. No luck though. It was starting to get dark and we decided to reel our lines in and then Bam, by cousin Brian gets a fish on. It turns out to be a rat red. We take a quick pic and send it on it's way:
Finally it's time to make dinner, we are all starving:
Next morning we get up early and start fishing, the girls took off walking down the beach to take pics of a boat from Hurricane Ike that had washed up:
Saw Nick and Brenda, Supermex and MikeR stopped by as well. Fishing was slow and only report we had was that Nick had caught a 28" Red south of us. We were still catching plenty of whiting and we were just kicked backed relaxing and enjoying everything. I decided to change rigs and all of a sudden I turn around and I see my cousin Brian start reeling in the HDX and I stop and look. I was trying to figure out if it was just weed or not. He is still reeling in kind of slow so I figure let me go out there and figure out what's going on. I asked Brian if he had something on and he said "Yeah, and it's big"! I check the drag and start talking to him to walk back a bit. Fish breaks the first sandbar and I see a BIG tail, I think Bull Red, Hell Yeah! He gets it in closer and it ends up being a 36" Black drum. It's his first big fish and first time out to fish PINS. Hell Yeah, he's pumped now: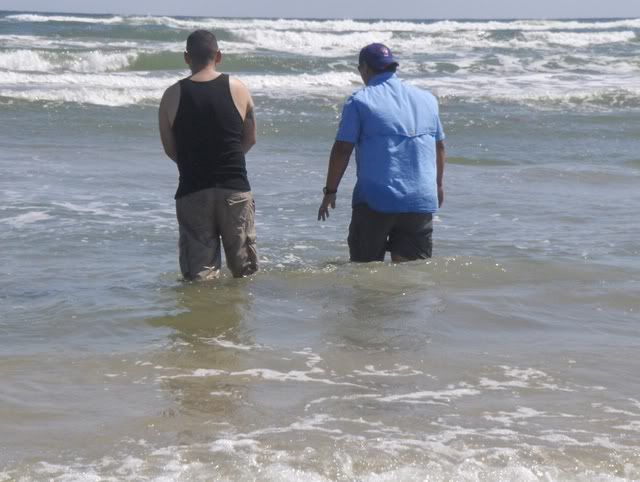 We fished a bit more, but no more good bites after that. We finally call it a day and start packing up to head back home. It was still a great trip. You forget how much you actually miss the beach if it's been a while. We had a great time and Brian and Mandy can't wait to make another trip back down.
Carlos