Discussion Starter
•
#1
•
We had planned on fishing the surf with Dusty and Kevin for some Sharkathon baits but quickly decided to jump offshore when my buddy DUNE3322 offered up some seats on his (correct me if I'm wrong) 28' Century going out of Port A. We arrive Saturday night to help him dock the boat and get our gameplan together on what we were intending to catch. Didn't snap any photos of the boat but here are the ones he sent me.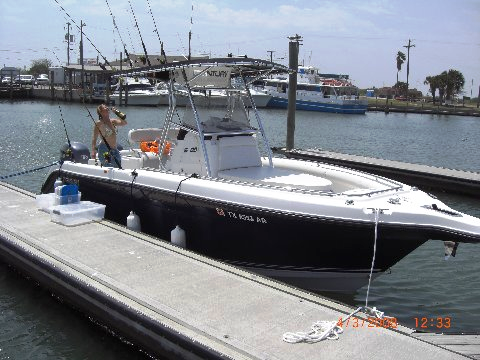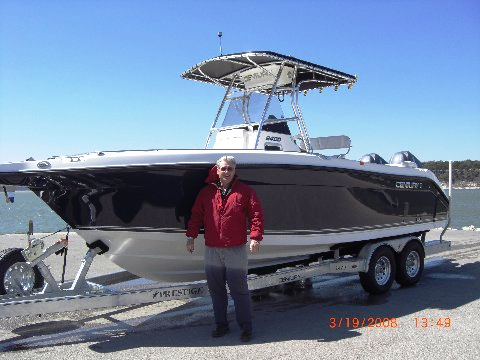 The total crew was me, Deaver, Rey (father in-law), Donald (Dune3322), and Jakob the warrior. 8) We had never been offshore on a private boat so we were pretty pumped up when we saw what we were going to be cruising in. Deaver and I had stopped by Bass Pro to pickup some Jigs, deep divers, and poppers....we brought some wire and hooks for Kingfish leaders but we ended up not even using them nor the $20 in bait that I bought before we headed out.
We left right as the sun was coming up on the horizon....a cold front was pushing onto Port A at around the same time so we were able to leave the bad weather for better instead of the other way around.... :lol: As we got to the first oil rigs we immediately started trolling to see what was on the surface....didn't take long at all to start hooking up. Donald had some nice Rapala lures (brown body w/black top) that were doing very well. We took turns on the 3 lines we had in troll and each of us got some action on the spinning tackle as well as a chance to be captain for an hour or so.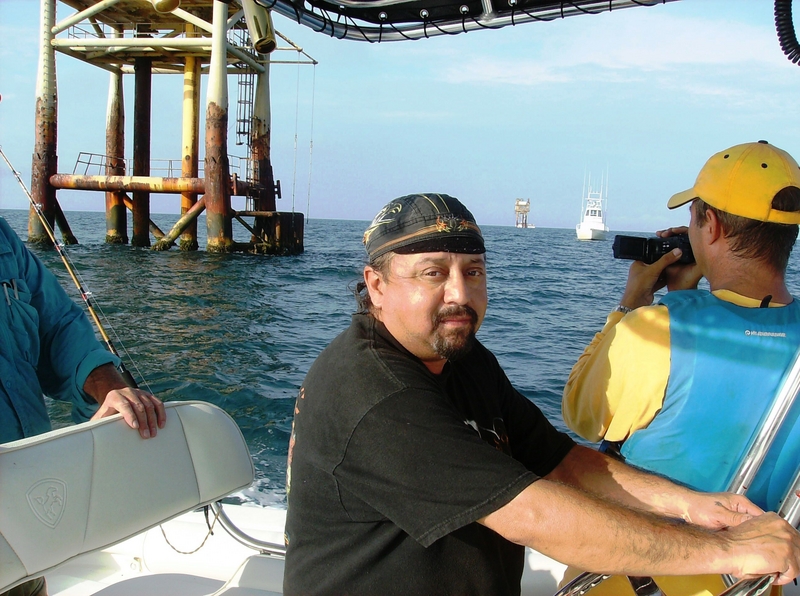 The water was dark blue and only got cleaner the further we went out....by 10AM we had the bulk of our kings in the cooler.....Deaver also hooked into a nice Cobia that was just under the size limit....we were all looking at each other as we tossed that one back into the water only to see it splash away in a hurry....see we really are good guys. 8) Deaver pulled out a nice blue and black Offshore Angler diver that was completely taking the spotlight......we must've hooked about 4 or 5 kings off of that one lure alone! Jakob was pulling duty on the rods training for Sharkathon....he managed 3 kings to the boat all by himself....two of them on a bait rod with 20# test and one on a regular 8' UglyStick....he did very well.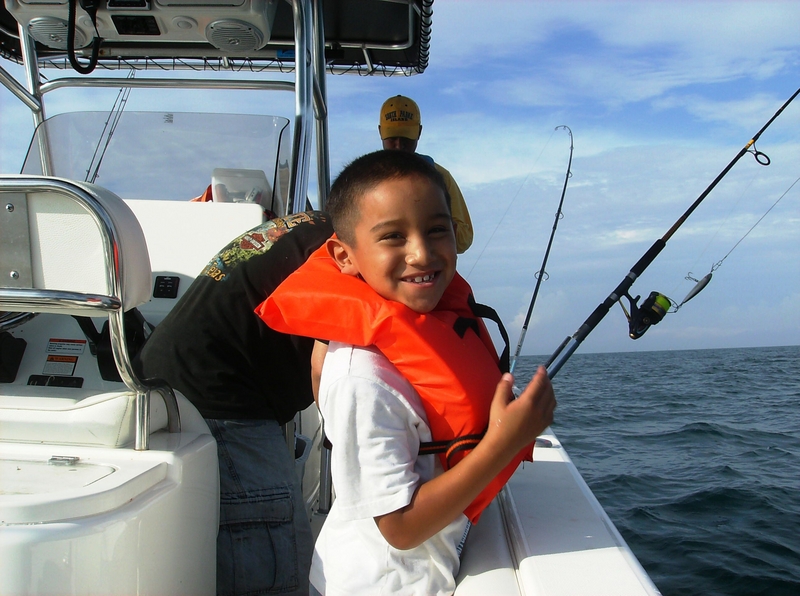 Rey managed 2 or 3 kings as well and was our main leader guy for the trip. I decided to pull out the deep diver I had bought and the action started as soon as I would put that bad boy in the drink!! He was a silver body Yo-Zuri with a metallic blue top that I ended up losing to the braid! :evil: I have to say that I really liked the way PowerPro worked out there but I also realize that I need more experience with it....I haven't liked using it on beach rigs since day one but I'm coming along.
Here is Jakob waiting for the run.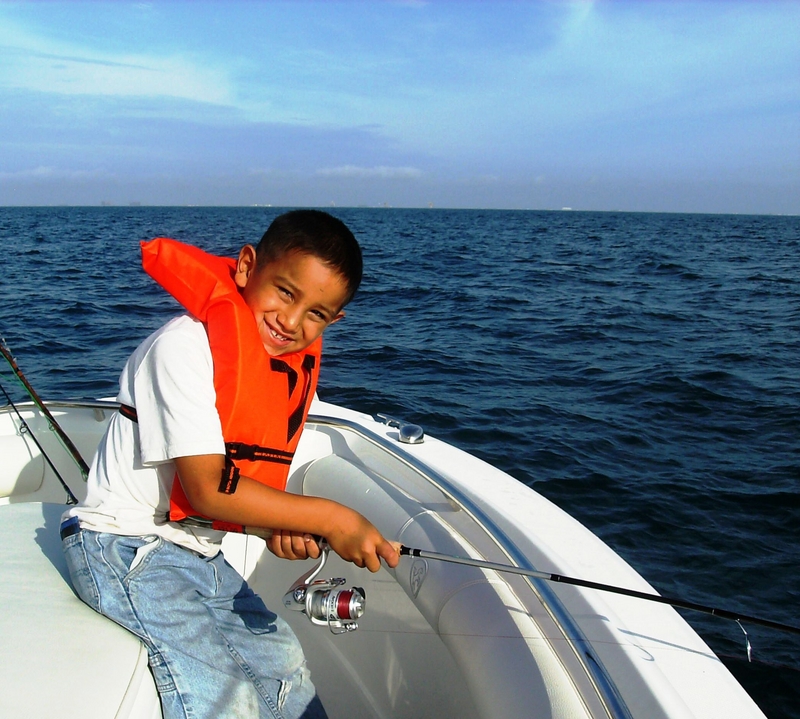 He stayed at the front of the boat most of the time running my deep diver just below the others....I need to go back to Bass Pro to pick up a replacement....that was one bad lure!! Keep an eye out for some video that Deaver will be posting up....I think we got some pretty decent stuff this weekend.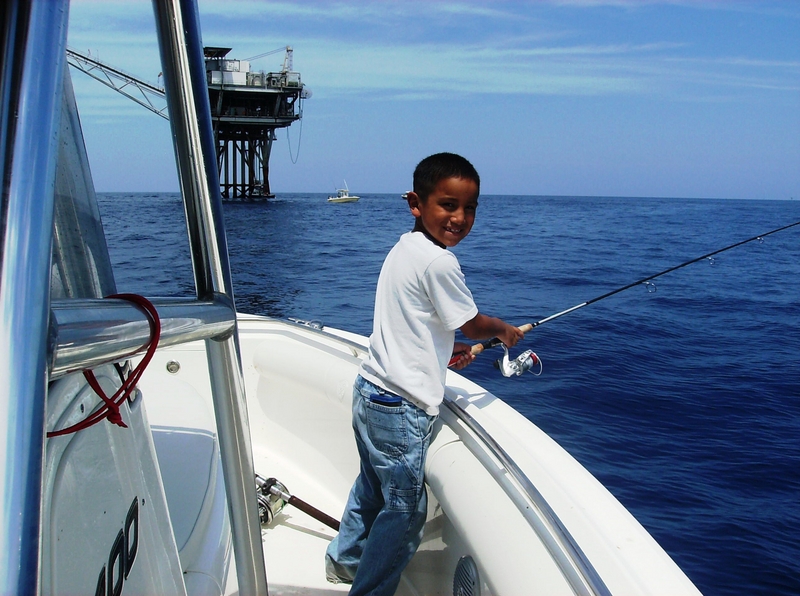 We caught two Spanish macks that were fighting like Kings....not sure if this is one of them but here are some more shots of Jakob tearing it up!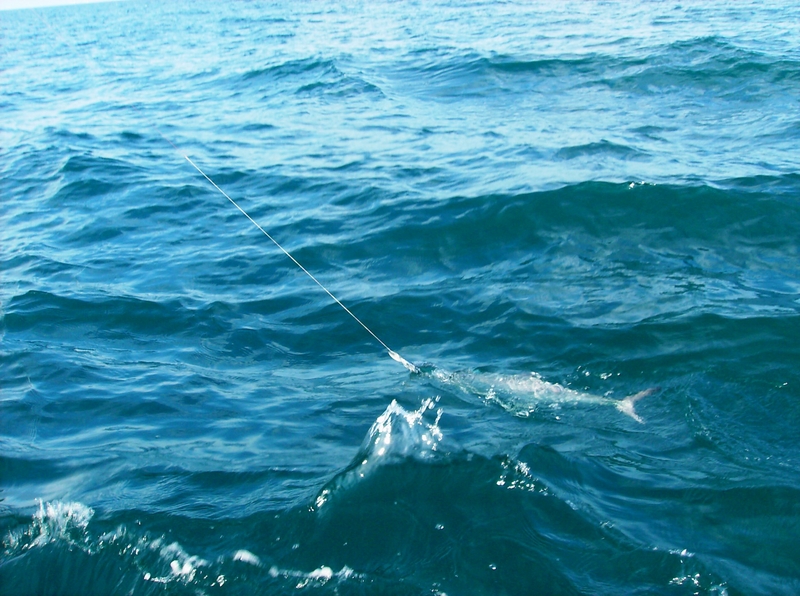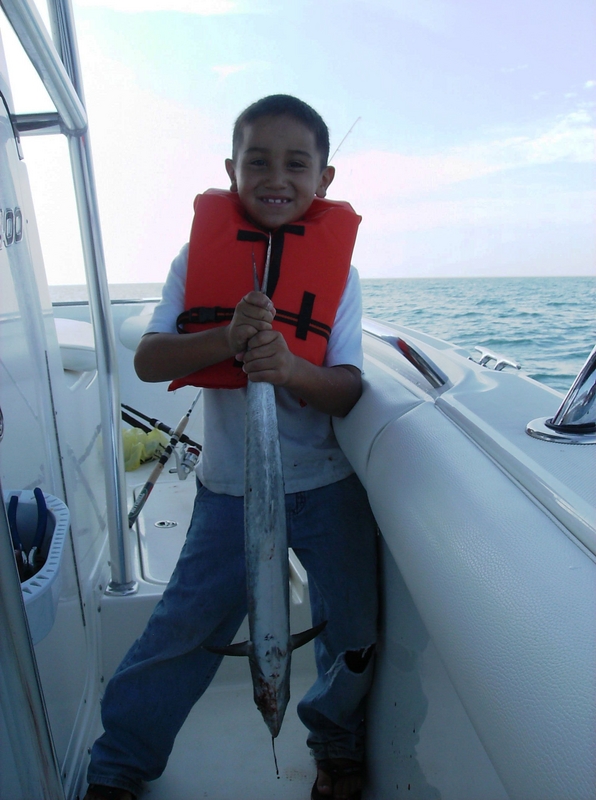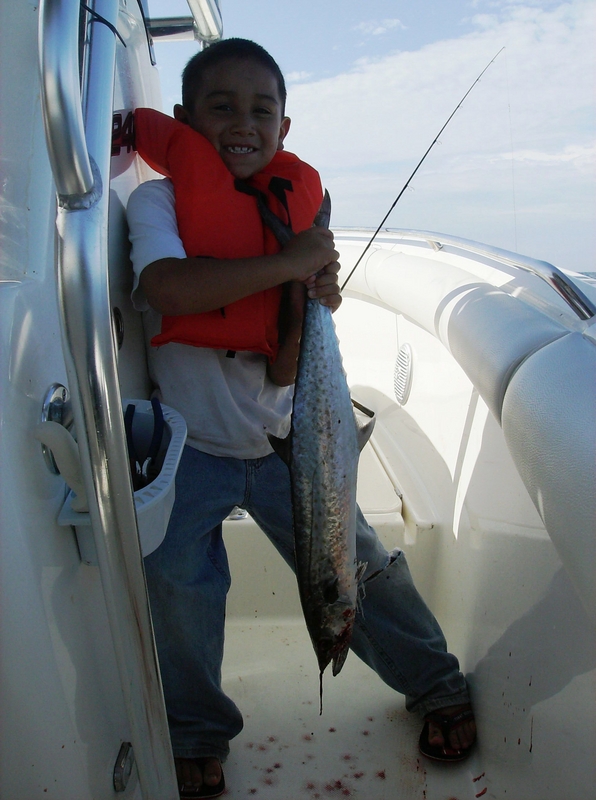 I think we all had a pretty good time....we ended up hitting Big South but didn't see too much on the radar so didn't stay there too long....plus we weren't really setup for bottom fishing either. The jigs we bought were way too small and we were fishing with mono not braid on the bigger reels....not very easy to jig with full mono. :roll:
We saw one seaweed patch as we were heading back in so I quickly put on the popper with not much success at all....got a tangle in the braid and that was pretty much it for the bait rod. Deaver got to spend some time out in the open water....and I know Rey was happy to spend a good 10 hours in a very nice boat.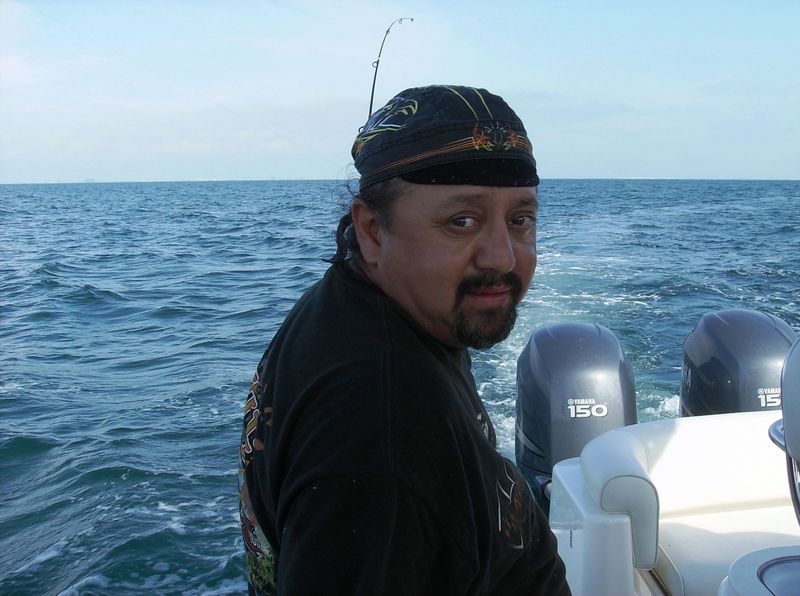 Big thanks to Donald for offering us some plush leather seats on his new boat.....I hope to be fishing with him again in the future.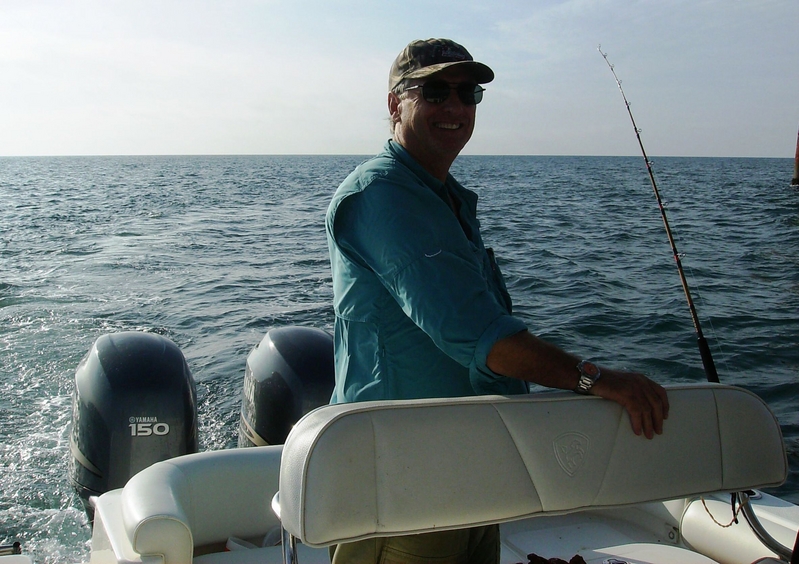 Here is a picture of the final haul....9 keeper Kings just shy of limiting the boat out. We caught that smaller Cobia and about 2 undersized Kings and another 2 or 3 that got away....overall some decent action for a last minute trip. 8) Until next time!!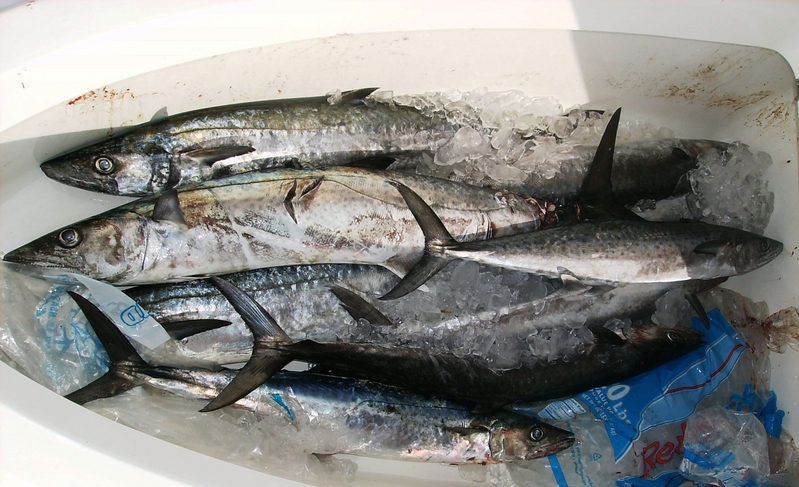 HEN FEEN