Discussion Starter
•
#1
•
Headed down to Oak Island last week with my daughter, wife and her mother for her b-day....envious, aren't you? lol
Anyway, I had convinced them to let me get some fishing in so here goes...
9/22
Head out to Dutchman Creek Bait & Tackle to replenish a few items... This place is on the main-land side of the bridge @ the Airport. Great people there and awesome selection. Picked up some hooks, sinkers, frozen mullet and some leader material so I could tie some rigs. Also picked up a nice Calcutta long sleeve t-shirt. Cant wait till it cools down so I can wear it!
Get back to the oceanfront House we rented on the West side of the beach and started rigging up. Finally got on the sand around 4:30pm.... (remember, I still had to maintain daddy/husband duties which included among other things lugging all of their crap down to the beach so they could spend 45 minutes.... but I digress)..... FINALLY got lines out. Things were slow at first but I did hook up a couple of smaller blues in the 12"-15" range. Also, I caught what turned out to be a small cobia. I had never caught one before and did not know what it was until I got home and could look it up on the 'net.... wish I had taken pics of it... Other than that, it was slow so I turned in for the night...
9/23
I got up Sunday morning ready for an ENTIRE day of fishing. I got all my gear together, loaded the truck and headed for "the point". If you have never been to Oak Island, "the point" is the western end of the Island at Lockwood Folly Inlet which separates from Holden Beach. I parked in the lot at the end of W. Beach Drive and headed out on the sand. I am glad I packed light which only included my 9' light rig, tackle box and cooler because that was a he** of a walk. I realized that I really need to invest in a cart. I get to the end and set up. If I had thought that things were slow saturday... sunday was 10 times worse. The Army Corps of Engineers was dredging the inlet so I convinced myself that they scared all the fish away. All I came up with in 3 hours was a small Skate. I ended up packing my gear and heading back to the beach house. On the way back I turned on Kings Lynn drive and saw they had a parking area on the Marsh side. Wish I had known that sooner so I could have flounder fished back there, oh well, daddy duty called!
I get back to the hose and found the girls already on the beach so I go down for some family time. Then went back into the house to wacth my Wolfpack get pummeled by Clemson. Oh well. Its a re-building year. I get all my gear together again and head down to the waves...its High Tide!
IT then hit me that there was a TON of bait in the water.... Talk about Mullet Blow!!!! I get my cast net out and snag more than enough finger mullet to last me several days. I then put baits in the water and grab a beer. Thats when the fun began.....
All of a sudden, my 9' goes off....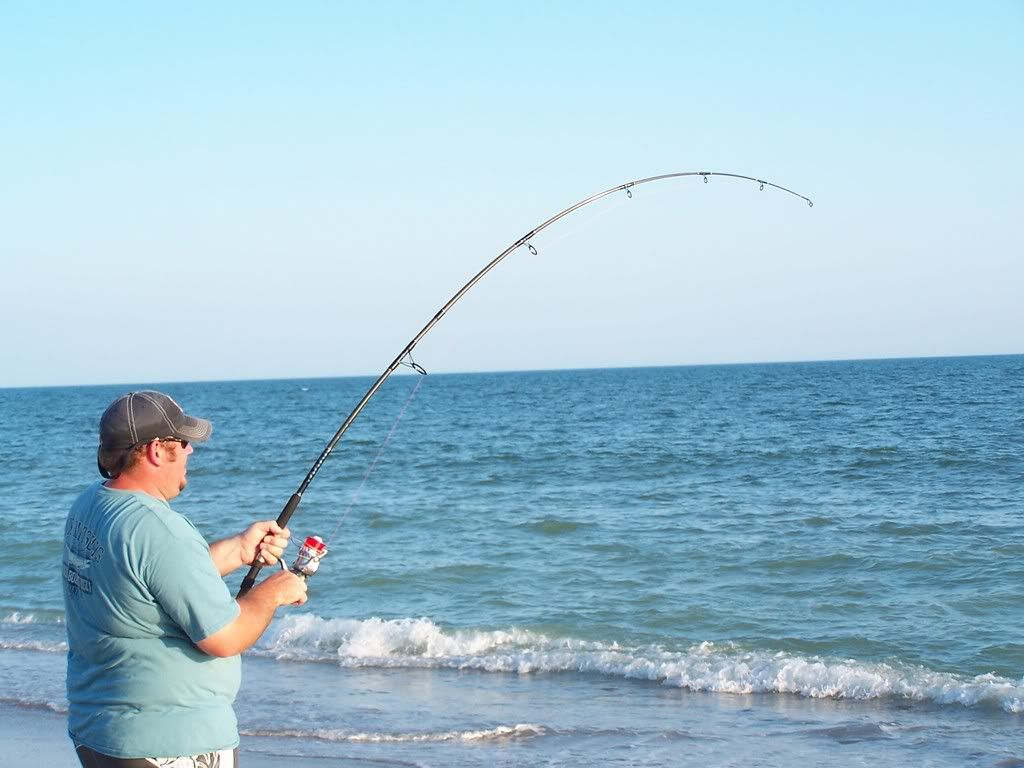 I grab it and realize this was more than just a small blue... After a 20 minute fight I end up with
I didnt get a great pic because the line broke just as I was about to grab the leader. He was approx 4' long. That was one of the toughest fights I have ever had. He did NOT want to come out of the water.
So I grab another beer and grab my 12' rig and launch the bait (whole finger mullet on 8/0 circles) I kid you not, within a minute of the bait hitting the water, the reel starts singing. This one took approx 10-15 min to land and I ended up with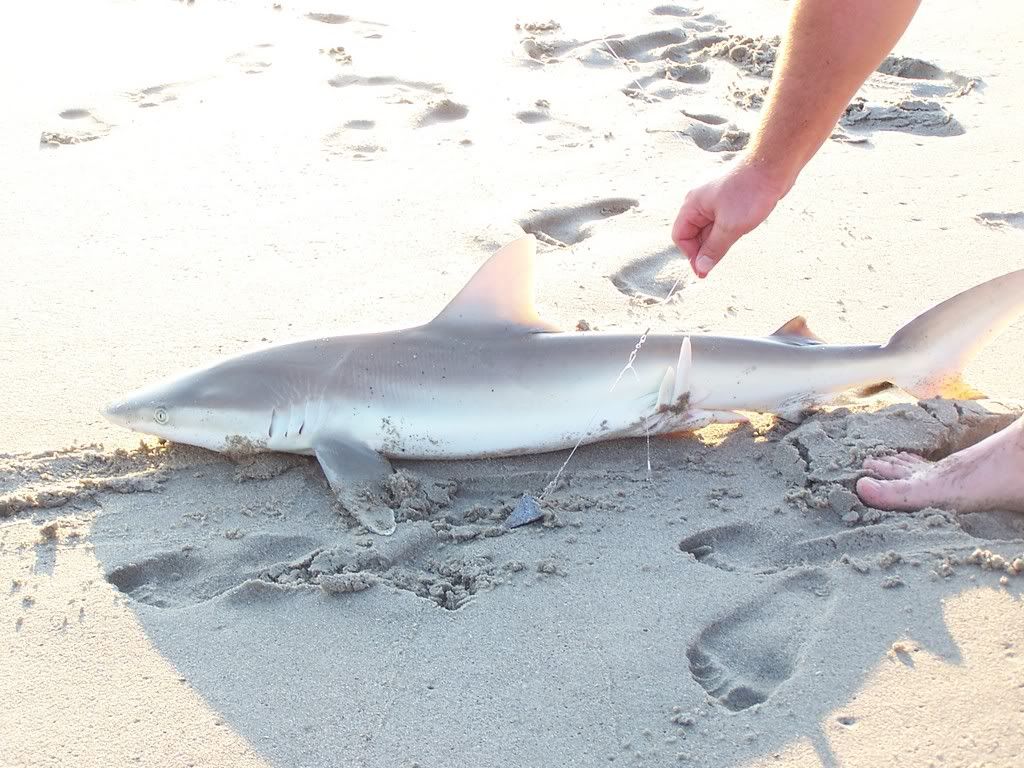 This is the first shark I have ever caught. It was great!!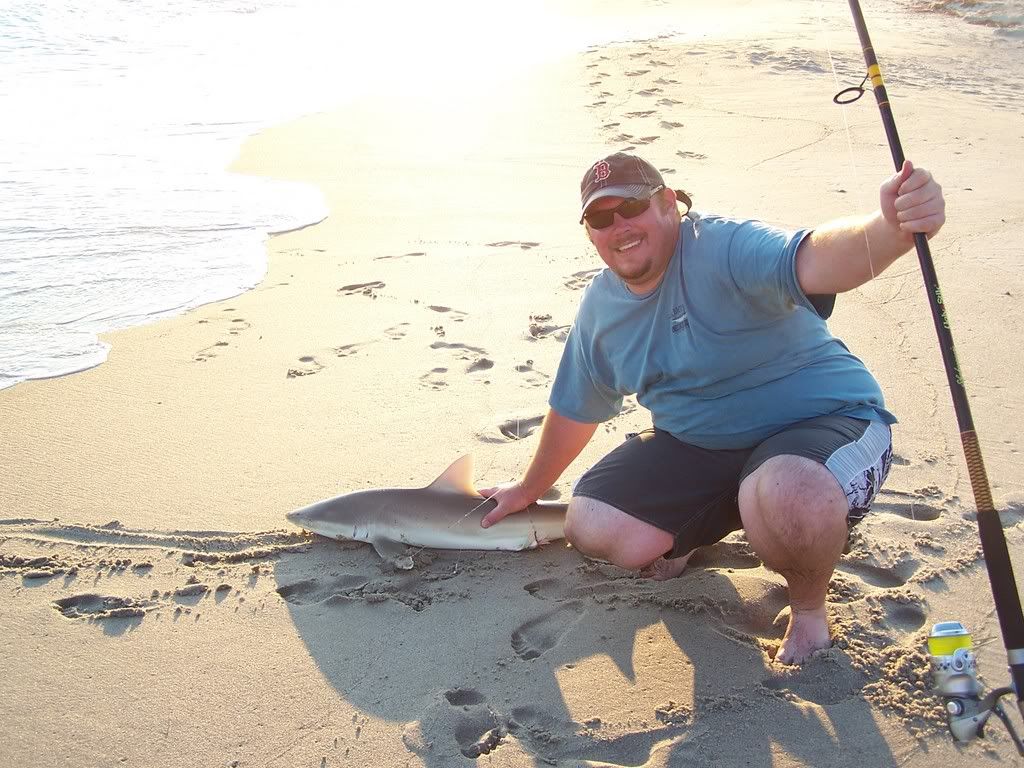 After those two fights, I wanted more but again, daddy duty called so I had to go in.
All in all it was a great trip. Hope to have more fights like that but only have BIG Drum on the other end of the line. Hope my Cape Lookout trip 10/27-10/30 has plenty of that to offer.
Until then, keep the lines tight and the beer cold!! :fishing::beer: