Discussion Starter
·
#1
·
Fished mostly ramp 23 south. It was by far the best looking piece of water in the tournament area. Steep beach and lots of broken outer bar. My first fish of the tournament was a 49.25"TL.
(this is OBXFISHN's picture, still waiting on DaWasher to get me a copy of the pics he took, I didn't any pics of this one with my camera)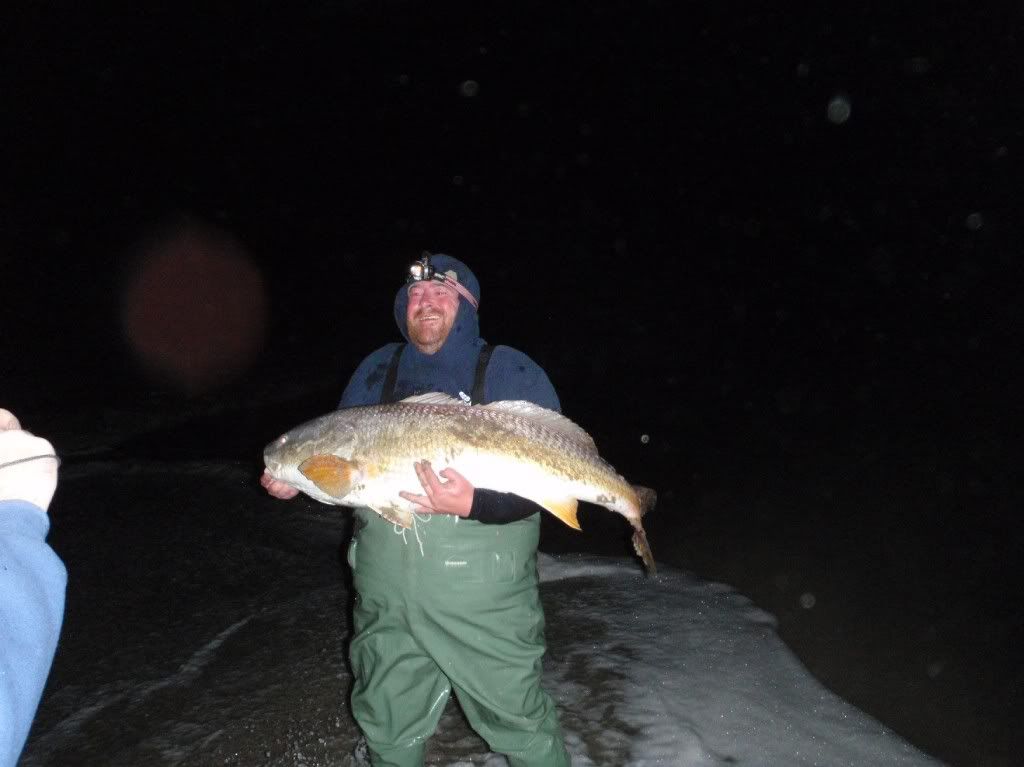 That was it for Thursday, although it seemed like everyone else was nail'em all around us. Maybe I was over throwing those pups, but I was going for big fish and they were way out there.
Friday afternoon we moved to a new spot and started finding fish. Here is my first pup of Friday, a nice 25.5"TL.
About 30 minutes later I found another and it was little a bigger at 25.75"TL.
DaWasher was getting a little frustrated about not getting any fish pics, so he decided to join in this photo.
Where we were fishing it was really skinny beach and as high tide was coming alot of folks bugged out. I wish I had photo before everyone left but there trucks and fishermen lined up and down the beach beside us. Denny bugged out too, but the burb and I weren't worried and stayed for awhile longer.
(ramp 23 looking north)
(ramp 23 looking south)
I waited until I saw the wash hit the tires three times before I gave up and moved to a safer area. Saw Rusty Hook tucked up in between dunes, almost stopped to join him cause that area filled up at high tide looked so good. Anyways, meet up with DaWasher and enjoyed some of his fine cooking and including one, and only one, of those PRIMAL SCREAM hot sausages.
About 30 minutes after high tide, I ventured back to our spot, probably a little early because the waves were still hitting the dunes in spots and track was very wet. But the burb floated along with its big paws and setup. As soon as it got dark, I hooked up another pup at 27"TL.
Around 10pm Friday night my Dad returned with some magic bait, good thing, I was just about out... The magic bait, worked and I landed this nice 48.25"TL.
At the time that 48.25"TL fish put in both first and second place.
Here's the 48 get'n measured:
It was a good time and I really love fishing the north beach of Avon. All my biggest drum have come from here. I looked forward to this trip every year, win or lose its usually the best fishing trip of the year. And this one was probably best because I won the tournament.
Thanks again to DaWasher for fishing with me, Dad for finding the magic bait, and Frank and Fran's for putting on another great tournament. See you next year!