Discussion Starter
·
#1
·
south east Florida Dania pier report:
beautiful fishing day today from 11-7ish pm
nice wind coming from NE, ballyhoo schools poppin all over the place
pretty good water color, nice current
only downfall, no fish!!
well at least until my buddy Ari hooked this 5lber an hour before sunset!!
(the spanish mackerel not the puffer)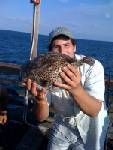 fillet, egg, flour, egg, bread crumbs, fry:beer:
i couldnt eat another freakin bight!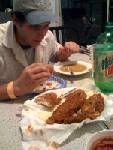 word on the pier is that the blues come in at nighttime pretty solid, 2 keeper cobes were caught friday night, and pompano are expected to start to show up hopefully this week but my guess is sometime next week
oh yeah, plenty of mullet and sardines in the channel behind the pier!