I was sitting and watching Monday Night Football, and I realized I truly didn't give a rip about who won after I got ousted from this weeks pool. So El Dog and I decide to go for a quick walk on the beach to check things out. It was pure glass, no wind down there and just a slight drizzle.
I jogged the dead seagull eating dog back to the pad and suited up. After a brisk dawning of gear, I made it to the base of the CBBT. There were only three guys fishing, which was cool. I guess there rain scared everyone away. I made a quick chat with one of the guys and it turns out he said he recognized me as one of the yakker's fishing out there at the SBC yesterday. He was in a Boston Whaler. Cool guys.
I set up one bait rod to soak some cut Bunker, and got the rattletrap schoolie rod into action. The guys next to me were catching shoolies on a jig/grub.
I get a really good hit not more that 10' foot from my legs (wading), it didn't feel like a schoolie...turned out to be a rat Red...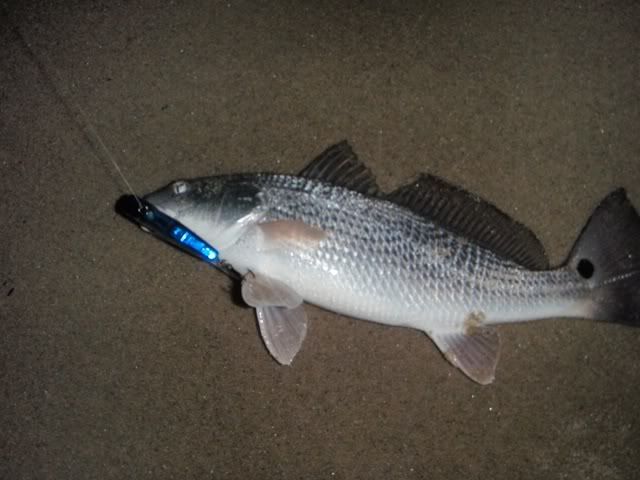 Then I had hit after hit and pull of after pull off. How in the hell does a fish smack a lure with treble hooks hanging all over it and not get hooked or spit it??
...
Then a few more rat Reds which must have been running with the schoolies..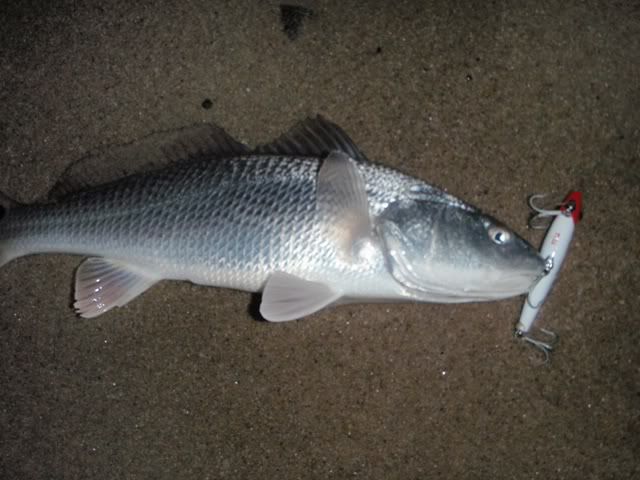 The rain started coming down, and then some schoolies decide to bite..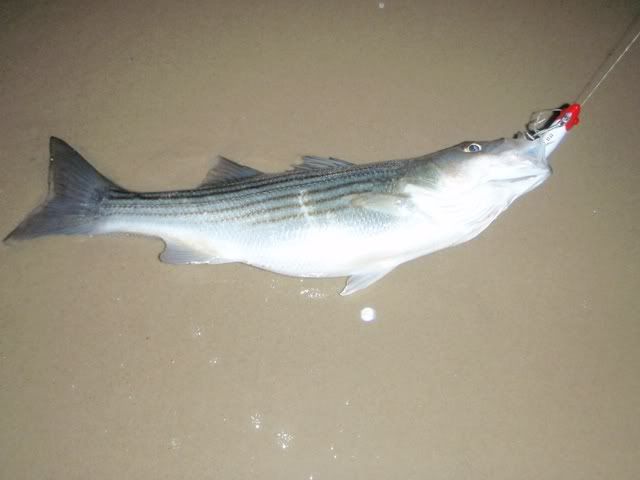 Ok, so here's the "one that got away" story.....
Everyone left, and I'm fishing alone out there whilst casting the Mirrolure and soakin' bait. I cast out into the lightline, and WHAMMOOO!!. Keep in mind that I'm using my 6'6" schoolie rod. The fish was no schoolie and it became very evident that I was outclassed on this one. It took off towards the Little Creek jetty and started to spool me. He ran over my bait line and kept going. It was dancing on the surface for a few jumps, so I'm not sure if it was an over-slot Red or a big Striper...I'm thinking Striper 'cause bigger Reds don't usually surface and splash all around when hooked. But it ran like a big Red. Whatever.....it got unbuttoned after about 5 minutes of fighting it. I didn't know whether to puke, crap or cry...or all three at the same time...
As you can imagine, I let loose an expletive so loud that God Almighty heard it....Sorry God....
It was a great little impromptu trip, regardless of the outcome.
Skunk